Prenatal diagnosis in Lublin
The importance of diagnostic tests during pregnancy needs no convincing. Every pregnant woman, regardless of age, can undergo prenatal diagnostics. The results of the tests make it possible to diagnose fetal defects and severe diseases while still in the womb.
Technological developments have expanded the availability of prenatal diagnosis for all pregnant women, which until recently was offered to women over the age of 35. Limited access to prenatal testing was therefore available to women under 35, even though the vast majority of children with birth defects were those born to them.  
You can perform the tests privately or free of charge under the National Health Insurance.
Whether you can benefit from free genetic testing according to the FMF standard, the Fetal Medicine Foundation, is determined by certain criteria.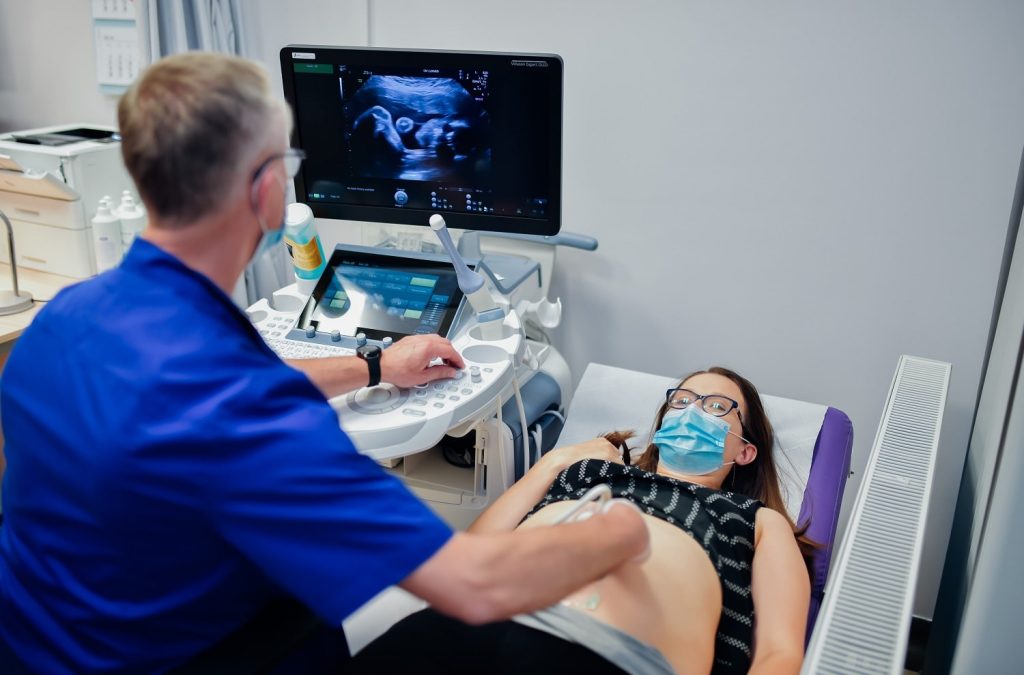 Free prenatal screening - criteria are important
Women who are pregnant (one condition or more) are covered by the free testing program:
Over 35 years of age
Who had a chromosomal aberration of the fetus or child in a previous pregnancy
In which structural chromosomal aberrations were found in the pregnant woman or the father of the child
The risk of giving birth to a child affected by a monogenetically or multifactorially determined disease was found to be significantly higher
Abnormal ultrasound or biochemical tests indicating an increased risk of chromosomal aberration or fetal abnormality were found during pregnancy
Prenatal diagnosis - don't be afraid to get tested
Invasive tests are often not necessary. Usually, non-invasive (screening) tests are performed free of charge, while invasive tests are recommended in special cases.
Non-invasive tests performed under the National Health Service are:
ultrasound examination
biochemical tests
If there are medical indications due to specific risks, you may be referred for invasive tests. This will be decided by the referring gynecologist. The tests will be carried out after you have given your prior consent.
Invasive prenatal testing includes:
amniocentesis with genetic testing of the fluid and genetic counseling
Genetic counseling in pregnancy includes, among other things, a medical history including genetic history, evaluation and interpretation of the results of the tests performed and a decision on how to proceed.
FMF Standard Prenatal Testing Program.
Free prenatal tests are performed under the NHF contract according to the FMF (Fetal Medicine Foundation) standard. They include examinations in the first trimester of pregnancy, between 11.0 and 13.6 tc. Pregnancy ultrasound is performed by a gynecologist certified by the Fetal Medicine Foundation FMF.
Diagnostics include:
In the first trimester of pregnancy
Prenatal ultrasound 11-13 (+6 days) weeks of pregnancy
Dual test (PAPP-A, beta-hCG)
The ultrasound examination assesses the regularity of the fetal structure at a given stage of pregnancy.
Adding information from biochemical tests in the first trimester screening test increases the possibility of detecting a genetic disease. Therefore, it is beneficial to perform the tests reimbursed by the National Health Insurance under the Prenatal Screening Program. It is also a unique and unrepeatable opportunity to detect an increased risk of placental pathology in the form of pre-eclampsia or fetal intrauterine growth retardation.
In the second trimester of pregnancy
Prenatal ultrasound 18-23 weeks of pregnancy
Prenatal tests are performed free of charge in Lublin, Luxmed Medical Center at 4D Koncertowa Street.
Privately, you can perform a prenatal test in Lublin, at a selected facility: 5 Radziwillowska Street, 4D Koncertowa Street and 7 Orkana Street.
You can make an appointment by contacting Patient Services - phone 81 532 37 11.